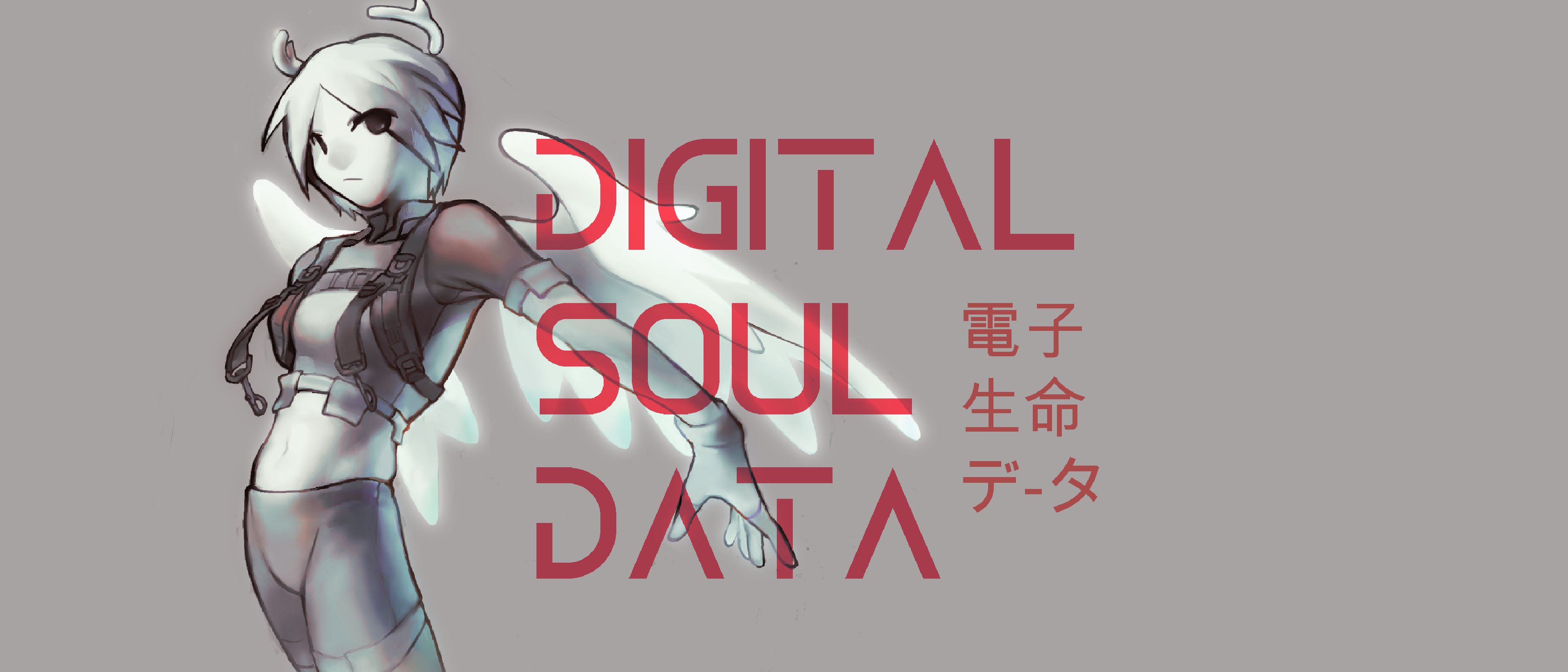 Digital Soul Data
A downloadable game for Windows, macOS, and Linux
About
Digital Soul Data is a top-down bullet hell shooter. Play as a hacker, Mia, who uses avatar NB4 to blast her way through cyberspace and retrieve her sister's Digital Soul from eternal virtual slavery.
Story
Digital Soul Data (DSD) - is a technology that learns behavioral patterns of certain people and replicates them via machine learning. It is most frequently used to make people's DSD work for corporations, although the digital soul functions less intelligently than its original owner.

Last year the government passed a law allowing the use of Digital Souls from people no longer working at the company, including those fired or even deceased. This led some corporations like Modeus Corp. to overwork their employees to the point they quit their jobs. Many committed suicide, which turned out to be insanely profitable for corporations continuing to operating DSDs, further incentivizing abuse.

Infuriated by such injustice, a well-known group of internet hackers, "Knights of the Western Calculus," contemplated an attack on the Modeus Corp's Data Fortress. They planned to infiltrate the database and destroy DSDs. One of the Knights, Mia "Glasscannon" Norwell, joined for more personal reasons…

Gameplay
Inspired by such shooter series as Touhou Project and Ikaruga, Digital Soul Data combines elements from danmaku and shoot-em-up genres - waves of bloodthirsty foes and challenging spell card patterns to keep you on your toes. Face 8 unique enemy types and a mysterious boss, while building up RAM chips and charging Power blasts to destroy everything getting in the way!

- Bonus Item - extra points added to your score

- Power Item - boosts Power Blast charge


- RAM Item - increases weapon range and power

- 1UP Item - gains a life
Take advantage of bullets going just shy of your hitbox and score extra points with Graze!
Use your incredible dodging, positioning, and planning skills to engrave your name in the table of High Scores, where the 1337357 of H4x0rz get their title displayed in vibrant old-school ASCII color-cycling!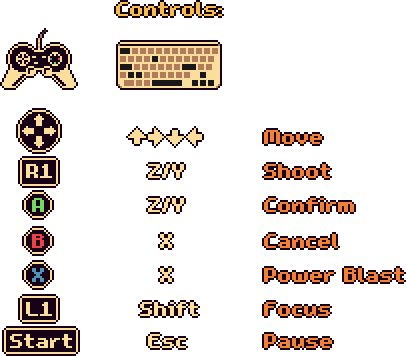 Please note that gamepad support is an experimental feature, mostly aimed at Xbox360-type controllers, and may not work properly with some joysticks.




The game is aimed at an audience familiar with shooters, although the difficulty is balanced to deliver the game accessible to a wide range of players. For seasoned veterans, we developers offer extra challenges - try to complete the game without taking any damage, without using Power Blast, or even without shooting once (yes, that is possible!). We'd absolutely love you to share your playthroughs and hi-scores with us!(submit screenshot/video of your score to the discussion board to get featured on the global hi-score table below, for more details check the Hi-Scores thread!)
DSD Hi-Score Table
1st: B 886 250
2nd: nivy 630 450
3rd: Giodyne 628 650
7th: Phenomenal 376 950
4th: Galaxoz 576 200
8th: Azem 167 900
5th: 5mg 544 550
9th:
6th: mokomaru 432 950
10th:

And if you are looking for some tech vibe - there's an optional "CRT effect" setting in the options, try it out!
Made in the OHRRPGCE game engine for the Spring Open Collab event and 32-bit Spring Cleaning Jam, by:

Prifurin @PrifurinC - Art, Audio
Bartolo Polkakitty - UI Programming
Kiefer Nemeth aka @kiefjerky - Engine Programming
Gaplan - Art, Story, and Design
mnym - Guest Artist

Beta-testing:
jontopielski, Arch, bit-hack, tamakodo, KometaF, Azem762, TMC, moca
| | |
| --- | --- |
| Status | Released |
| Platforms | Windows, macOS, Linux |
| Release date | Apr 05, 2021 |
| Rating | |
| Authors | Prifurin, OneHundredThousand |
| Genre | Shooter |
| Made with | Audacity, Aseprite |
| Tags | 2D, Bullet Hell, Cyberpunk, Female Protagonist, Kinetic Novel, ohrrpgce, Pixel Art, Shoot 'Em Up, Short, Top down shooter |
| Average session | A few minutes |
| Languages | English |
| Inputs | Keyboard, Gamepad (any) |
Download
Click download now to get access to the following files:
digitalsouldata_win_1.1.zip
6 MB
setup-digitalsouldata.exe
5 MB
digitalsouldata_mac_1.1.zip
6 MB
digitalsouldata_linux_1.1_x86_64.tar.gz
4 MB
dsd_debian_1.1.tar.gz
9 MB